Online Junior High: Grades 6 - 8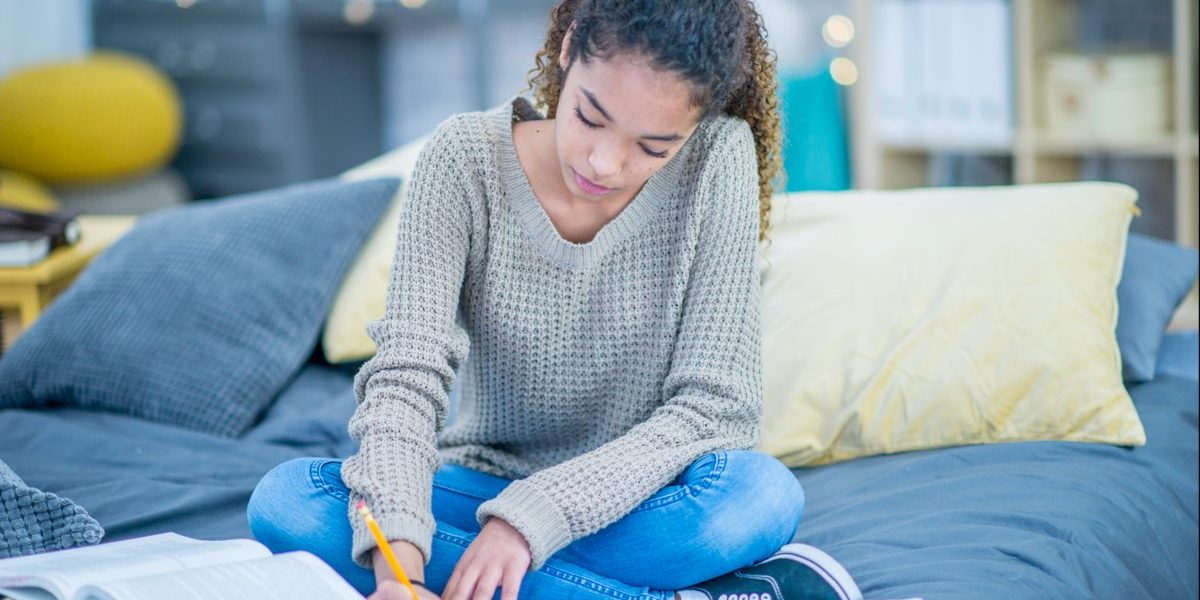 Free Online Jr. High for Utah Scholars
Lumen's charter junior high school nurtures student individuality and independence
For many of our junior high students, attending Lumen is the first time they're experiencing an online learning environment with a built-in independent study expectation. While many public school students are now familiar with virtual learning, Lumen's online junior high requires students to learn a higher level of self-driven focus and dedication to stay on task without full-time supervision.
Our middle school curriculum takes this into consideration, balancing live online instruction with digital tools and teaching models to help students navigate an online-based education while giving them the space and support to grow both individually and academically.
What to Expect from Lumen's Online Junior High
Daily schedules at Lumen's online junior high consist of interactive virtual classes in which students are expected to engage with their teachers and classmates, self-lead independent study at home, and a mixture of hands-on and digital activities designed to reinforce what is taught during live instruction.
Independent & Parent-assisted Work
Sample Daily Schedule for 7th, 8th & 9th Grades
Lumen's online junior high daily schedules can be personalized to meet each student's individual needs, abilities, and academic goals. Every student's core schedule is a mixture of live instruction, independent study, group projects, and learning labs.
| Session/Type | Time | Days | Class or Activity |
| --- | --- | --- | --- |
| 1 - Livestream | 9:00a - 9:40a | M-Th | Math |
| 2A - Livestream | 10:00a - 10:40a | M/W | English |
| 2B - Livestream | 10:00a - 10:40a | T/Th | History |
| 3 - Livestream | 11:00a - 11:40a | M-F | Percussion |
| | | | LUNCH |
| 4A - Livestream | 12:30p - 1:10p | M/W | Science |
| 4B - Livestream | 12:30p - 1:10p | T/Th | Culinary Skills |
* Please Note: This is intended as only an example to show what a day in the life of one of our students might look like. Schedules can vary greatly depending on several variables, including the student's personal academic needs.
Experience a Middle School Lesson
Lumen's online junior high courses are designed to challenge students academically, encourage engagement, and reward participation. The combination of live stream classes and independent study pushes students to discover self-driven dedication and focus while helping students of all learning styles create their own systems for connecting with the material.
In-Person Labs, Activities & Service Projects
Learning outside the classroom is just as important as learning within — and sometimes kids just need to get offline and get their hands dirty. During our in-person labs, activities, and service projects, Lumen scholars have the opportunity to engage, socialize, and learn from each other. These in-person excursions encourage students to apply what they've learned in the classroom to real-world situations and teach them how to collaborate in peer-to-peer group settings.
Junior High Parent Responsibilities
Lumen's junior high students benefit from small class sizes and autonomous professional educators experienced in tailoring curricula to fit each of our student's individual strengths, weaknesses, interests, and needs. Our goal is to help 7th, 8th, and 9th-grade students develop an independent work ethic that will lead to academic success.
But we can't do it alone. Your role as a Lumen parent is to reinforce these lessons and help hold your maturing student accountable at home. Together, our support can nurture independence and self-reliance that will serve your child for the rest of their life.
Our Online Junior High Community
Our young Utah scholars love learning at Lumen